An intense new facet of the CHANEL COCO MADEMOISELLE personality emerges to forge a powerful, deep, addictive perfume that is irresistible in every way.



---
Coco Mademoiselle Intense, the powerful and new personality of the Chanel woman.
---
Initially, Coco was a perfume full of spices and ylang-ylang. It was through him that he symbolized the taste of Gabrielle Chanel for Baroque and Orient. This fragrance was then charged with sensuality. Nevertheless, in 2001 it was transformed into a new version, Coco Mademoiselle. This time it was a fragrance that goes to the necessary, endowed with extraordinary purity. Indeed, Gabrielle Chanel has always cultivated a deep love for white color. This is reflected in many of his works and that's what Coco Mademoiselle was thought to be. Today, Coco Mademoiselle Intense is another aspect of her character. It's a clever mix of boldness and determination.
On the olfactory plane, this results in many contrasts. Indeed, Coco Mademoiselle Intense begins with an extreme freshness combining the orange of Sicily and bergamot. These citrus fruits are the symbol of vivacity of Gabrielle Chanel. Then, Coco Mademoiselle Intense evolves towards a more romantic femininity, like a huge bouquet of flowers. Jasmine and rose, the two most popular flowers in women's perfumes, are omnipresent. Finally, all the power of Coco Mademoiselle Intense resurfaced in its base. It is a fragrance intensely dosed in patchouli. This raw material reveals a deep and voluptuous smell. It is accompanied by a warmer, tender and feminine amber accord. This sensuality finally ends with a sweet and seductive vanilla.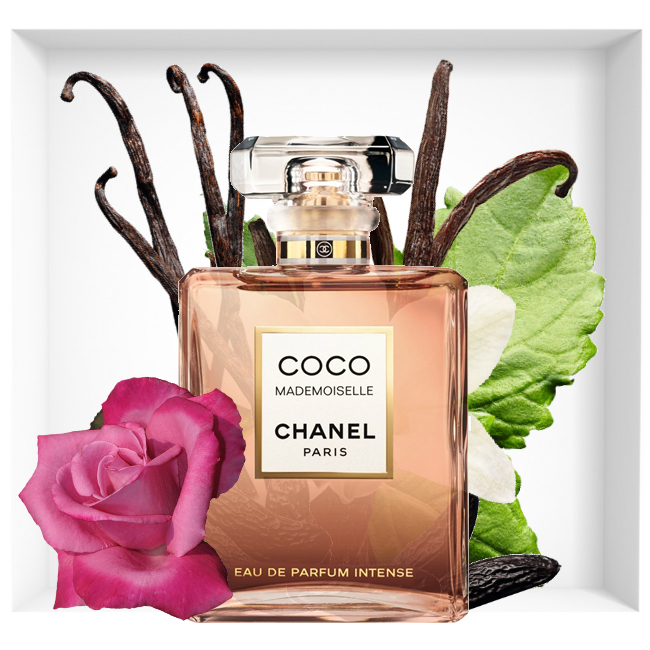 An extreme, luminous and deep concentration of Patchouli infuses COCO MADEMOISELLE EAU DE PARFUM INTENSE with a voluptuous dimension. The warm, soft and feminine Amber accord — an intoxicating blend of Tonka Bean and Vanilla from Madagascar — wraps the scent in sensuality.
Top notes: Sicilian orange, Calabrian bergamot
Heart notes: rose, jasmine
Base notes: patchouli, tonka, Madagascar vanilla
---