Developed by Sonia Constant, the new Valentino Donna Rosa Verde has the intense freshness that is difficult to find in any other perfume. This Valentino fragrance is enriched with peppery ginger and is definitely a class apart. The  intends to represent the determined Mediterranean woman.



The freshness of the all new Valentino Donna Rosa Verde is unmatched. The radiance of this perfume gets along well with the spring season and you feel like you are navigating in a rosy garden. In fact the fragrance is inspired from the garden adjoining Palazzo Mignanelli that has a beautiful landscape.
---
Composition
The composition consists of mate tea, green rose, ginger, magnolia and bergamot.

---
Valentino bottle is iconic!
---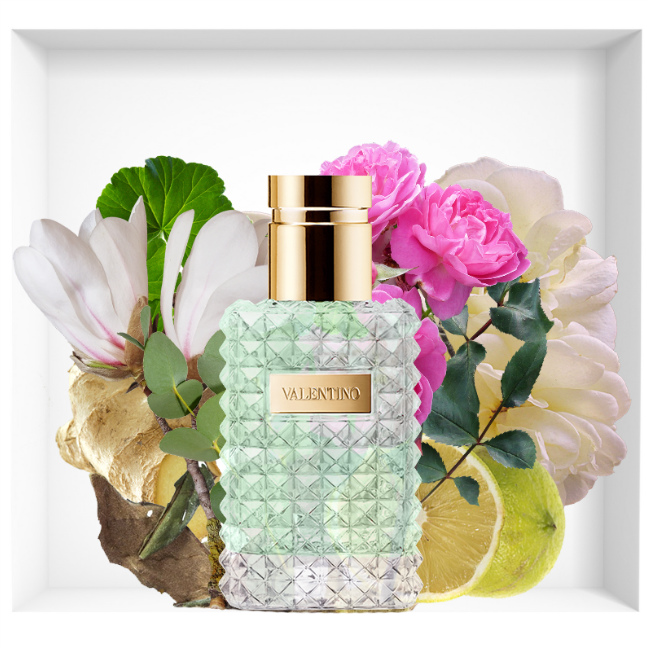 Valentino always strives to bring out something unique in its perfume bottles. The new Valentino Donna Rosa Verde comes in a transparent bottle that has prisms all over! The prisms are beautiful and keeps up with the aroma inside the bottle. Why Prisms? Valentino intends to represent cut stones from the palaces of Italy! The golden plate on the bottle bears the name of the perfume, making it look graceful. Valentino pays as much attention to the design as the fragrance itself.
The lovely green color is an added attraction. It represents the lovely floral gardens! It also tries to bring in vegetal softness. Wear this perfume and travel through the plush, green gardens of Italian palaces. Try the new green rose aroma this spring season and enjoy the deep freshness. This perfume for women lets you experience softness besides being exotic. Any occasion, Valentino Donna Rosa Verde would make the ideal choice!

Feel the woman in you with the new Valentino Donna Rosa Verde! The fragrance makes the air around you cool and fresh, while evoking a sense of positivity in you too!!