L'Air du Paradis, the legendary fragrance of Nina Ricci takes on exotic airs. L'Air du Temps is a perfume evocative of timelessness, and for good reason … It was created in 1948 but still seems to be perfectly current. Its freshness still moves millions of women around the planet. The Air of Time alone expresses the post-war feeling of finally being able to live again. It is a strong symbol of freedom and reflects a Paris full of surprises. Today, this classic feminine perfume is reinventing itself. It reveals us a new face more exotic and tropical. Focus on the latest creation of Nina Ricci – L'Air du Paradis.



---
Nina Ricci takes us to an exotic garden
---
L'Air du Paradis is a perfume like a waking dream. He has preserved the refinement and style of his predecessor while adding a new touch of exoticism. From then on, it takes us into a solar and summer world, which we imagine easily brimming with flowers and birds almost dreamlike. L'Air du Paradis is a perfume designed to give us a balm to the heart. Like his eldest, he has kept all his joie de vivre and thus conveys a message of appeasement. It makes you want to smile to life and gives us a taste of the beautiful days ahead.
---
The feminine floral and fruity fragrance L'Air du Paradis
---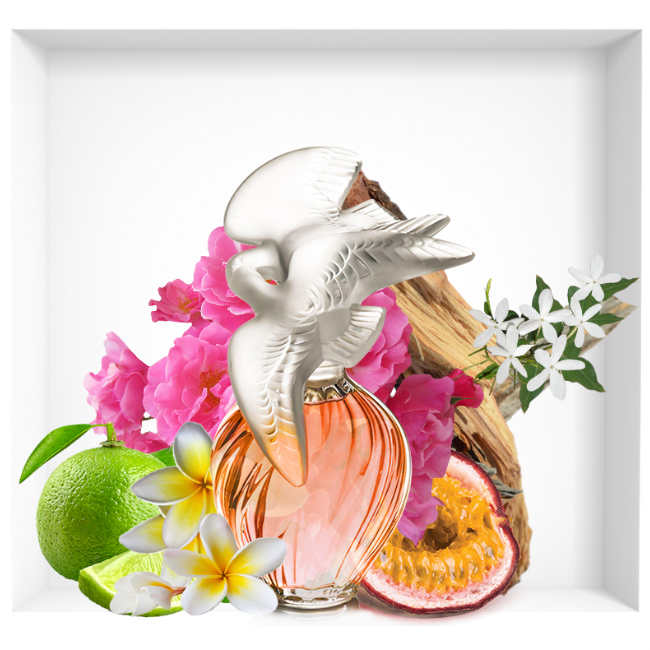 To make this new fragrance, the house Nina Ricci has appealed to the perfumer Calice Becker. The latter has imagined a floral and fruity composition and, particularly exotic. Moreover, this translates from its start.
L'Air du Paradis assembles from the start the freshness of lime to a passion fruit. Then, exotic flowers run through her heart while wrapping with jasmine and frangipani. Finally, the whole becomes darker and slightly spicy at its base. L'Air du Paradis ends with a woody flavor that brings all the content to this fragrance.



---
The flacon L'Air du Paradis signed Martyna Zoltaszek
---
Visually, this translates into particularly summery and creative cardboard packaging. The colors are numerous and the details are multiple. The whole is inspired by a luxuriant nature, and is the work of the Polish illustrator Martyna Zoltaszek. After studying at the Beaux-Arts, this talented designer moved to Bristol. Her works are now exhibited worldwide and shines more specifically for his creations very often inspired by the theme of nature. She is an artist well known for the quality of the details that she integrates into her works and for her undisputed love of colors. This is exactly what we find on the new packaging of L'Air du Paradis. Side bottle, this perfume has preserved the sensual curves of L'Air du Temps. Its bottle is like a limpid swirl in perpetual motion, overhung by two doves. The set is now colored with a glass similar to a solar fire, evolving in shades of yellow and orange.