Many of today's perfume houses come from the world of jewelry. Although this is not the case with Lancôme, many of its fragrances have the appearance of real gems. La Nuit Trésor perfumes, for example, were introduced in 2015, in line with the purest spirit of modern jewelry. Today, the unique Lancôme bottle is coming back to the foreground. Lancôme presents us his first novelty in 2018: Lancôme La Nuit Trésor à la Folie.


The Treasure Night at La Folie is thought of as a fascinating enigma from another galaxy. Have you ever thought of what would happen when two stars come together and collide just above our sky? This rare phenomenon does exist, and occurs approximately every 100 years. It gives rise to a shower of particles that, when they enter the atmosphere, metamorphose into a kind of rain of black diamonds. One of them has aroused the curiosity of Lancôme, and the brand has decided to make it an exceptional perfume: La Nuit Trésor. Just as fascinating as its predecessor, Lancôme La Nuit Trésor à la Folie is this time focusing on seduction. After all, is not a diamond straight from heaven the perfect jewel to arouse all desires?


La Nuit Trésor à La Folie appears as a standard of feminine perfumery, and brings together several flowers typical of women's fragrances in its heart. He put on a blend of peony, rose and jasmine. However, La Nuit Trésor à la Folie does not lack personality, and displays his enthusiasm from the start. The freshness of bergamot is contrasted by the incandescent heat of pepper. Patchouli comes to frame the whole. La Nuit Trésor à La Folie is dressed in vanilla, tonka bean and amber for a warmer touch. Finally, musk gives it a part of animality that only makes it more attractive.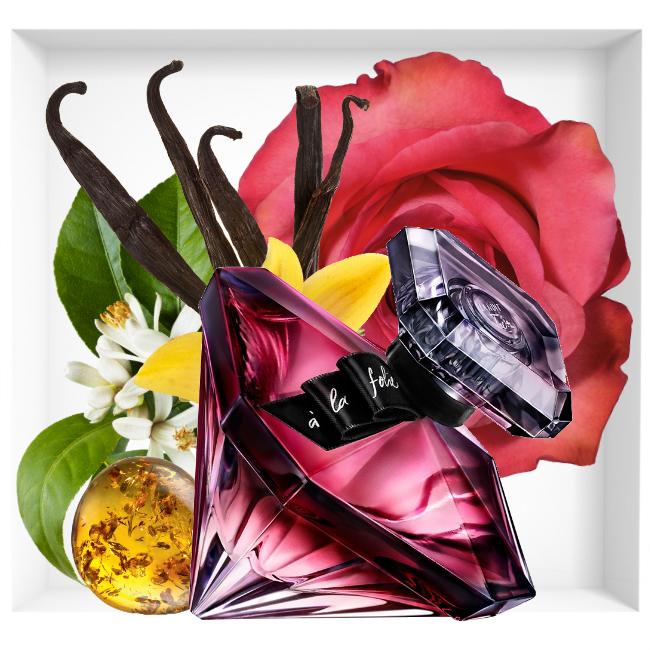 Top notes: pink pepper, bergamot, pear, red currant
Heart notes: Damask rose, jasmine, peony, violet
Base notes: Bourbon vanilla, benzoin, tonka, patchouli, woody notes, ambroxan, nutmeg
The bottle of La Nuit Trésor à la Folie, as for him, looks like it is mistaken for that of his predecessor. Only its color has changed slightly. She becomes more feminine and glamorous than before, enriched with fuchsia reflections. La Nuit Trésor à La Folie is like an exceptional jewel from contemporary fine jewelery. Cut to a point, it displays an admirable symmetry, and is similar to a rough cut diamond of 75 facets. This ornamental jewel is also decorated with a black satin bow at the collar. Inspired by the original Trésor bottle from 1952, it has a remarkable French elegance with an incredible sense of detail.