For all those who love traveling, Mandarina Duck this time takes us to New York, creating a new, fragrant pair, aimed at lovers of exploring new places and adventures. As the first step in the latest collection, the brand is celebrating its trip to New York City with fragrances in oval flacons decorated with a logo and stamp of the passport means the destination we travel to, and this time the Statue of Liberty was chosen to represent one of the most famous metropolis.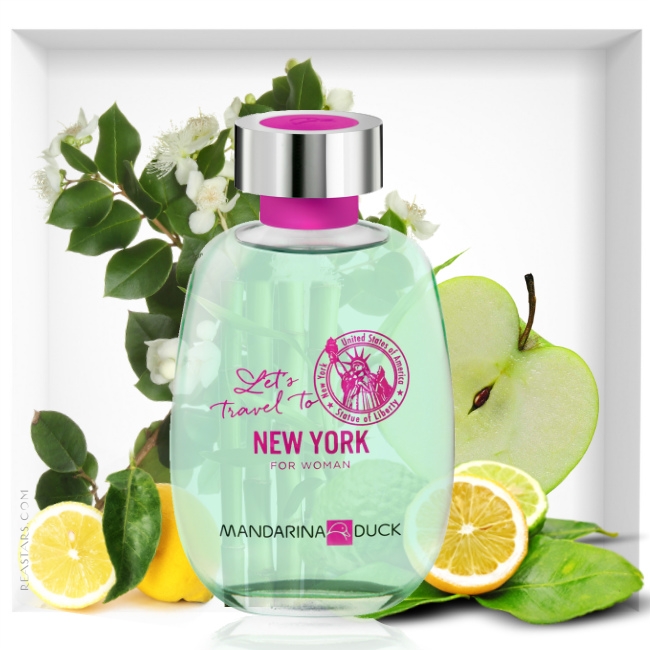 LET'S TRAVEL TO NEW YORK FOR WOMAN EAU DE TOILETTE is a fruity-floral fragrance created by Jean-Pierre Mary. Like the city itself, the beginning of the composition is startling with the freshness of Italian lemon, bergamot and green apples. At a later stage there is an irresistible affinity of jasmine, bamboo and nectarine, based on musk, cedar and sandalwood.
Top Notes: Italian lemon, green apple, bergamot
Heart Notes: Jasmine, bamboo, nectrine, iris
Base Notes: Sandalwood, cedar, musk
LET'S TRAVEL TO NEW YORK FOR MAN EAU DE TOILETTE created by perfumer Jacques Huclier and conceived as an oriental-fougere. The composition start with fresh bergamot, lavender and carrot seed. At the heart comes an avant-garde flower blend of freesia and orris, while the base is characterized by cedar, sandalwood and coumarin whose aromas resemble the aroma of fresh cut hay.
Top Notes: Lavender, carrot seeds, bergamot
Heart Notes: Freesia, orris
Base Notes: Coumarin, sandalwood, cedar