Sunrise in Cadaquès Eau de Toilette inspired by the exceptional magic and light of Cadaquès, the small Spanish fishing port on the coast of the Mediterranean known throughout the world as "Dalí's village". Salvador Dalí lived in Cadaquès with Gala for many years, attracting a number of artists and personalities from all over the world to visit them in their incredible home.


A captivating, vibrant feminine Eau de Toilette that subtly combines the contrasting softness and luminous energy of the nature of Cadaquès that peacefully awakens at sunrise.
The composition opens on a truly refreshing top note: a charmingly feminine, spicy citrus bouquet of mandarin, bergamot, elemi and pink peppercorns.
These spices warm up the soft, deeply floral heart of iris and jasmine and the sunny, spicy facet of immortelle flower and the powdery facet of heliotrope.
The very warm, sensuous base notes of the composition are centred around musk, patchouli, labdanum and balsam of Peru which extend the refined, deliciously addictive signature of this fragrance.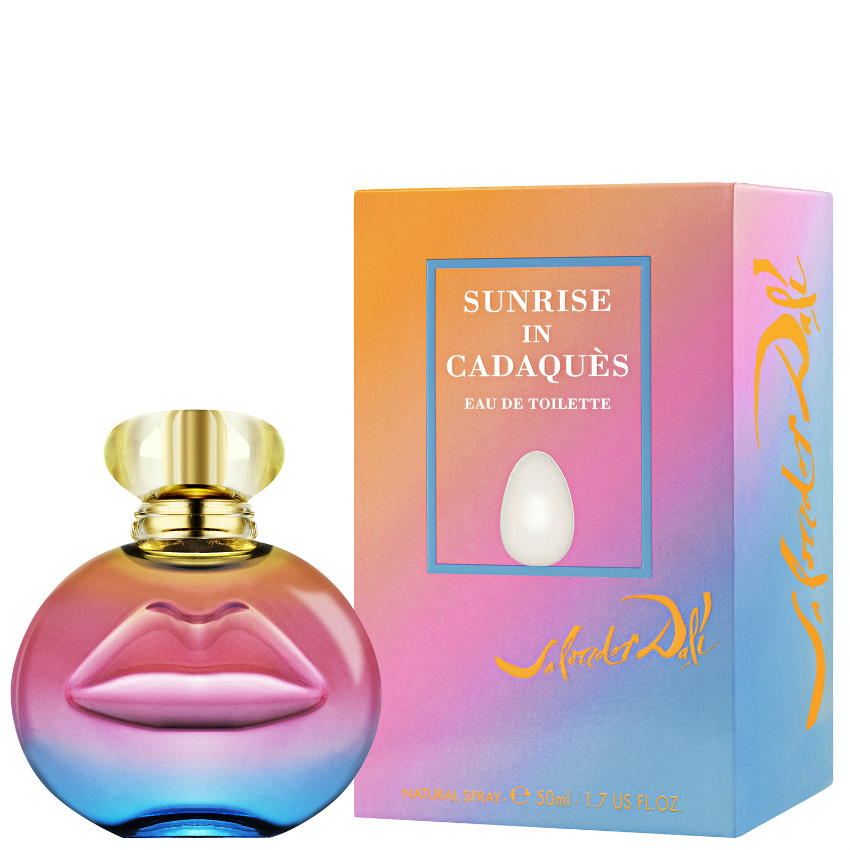 The luminous bottle of SUNRISE IN CADAQUÈS immediately evokes the sun slowly emerging over the sea. Its translucent gradation of warm, lively colours – orange, pink and blue – illustrates the magical moment when the fiery orb releases its first rays of light, sending a magnificent multicolor palette across the sky.
With its feminine oval shape, the bottle is also a subtle reference to the famous "Dalinian eggs" that overhang the surrealist master's home in Cadaquès. This femininity is accentuated by the famous mouth sculpted at the centre of the bottle, which asserts itself joyfully and sensuously.
The elegant clear round stopper filters the coloured reflection of the bottle.
The sunny box features the same gradation of sunrise colours in a pretty harmony of orange, pink and blue. Like a Dalinian seal, a small raised white design in the shape of an egg appears on the front of the box.
See more at www.parfums-salvadordali.com