Designed on the island of Pantelleria, a parenthesis between sky and sea where Giorgio Armani likes to relax, Acqua di Giò for Man has quickly become one of the stars of the male perfumery. Created in 1996, this fragrance never ceases to be talked about. It is now more than 20 years that he is on the front of the stage and it is the happiness of men around the world. In 2015, it was enriched on the one hand more mineral through Acqua Di Gio Profumo. Today, Giorgio Armani has again decided to offer us a reinterpretation. Acqua Di Gio Absolu is a maritime and woody mixture. It is precisely these two elements that we find at the center of his new fragrance.



Giorgio Armani Acqua Di Gio Absolu embodies the image of the man at the heart of the natural elements. It is the essence of water and its essential role on our planet. Acqua Di Gio Absolute is all at once: depth, strength and intensity. This third chapter of Acqua Di Gio releases a new inner power and reveals an unparalleled freedom.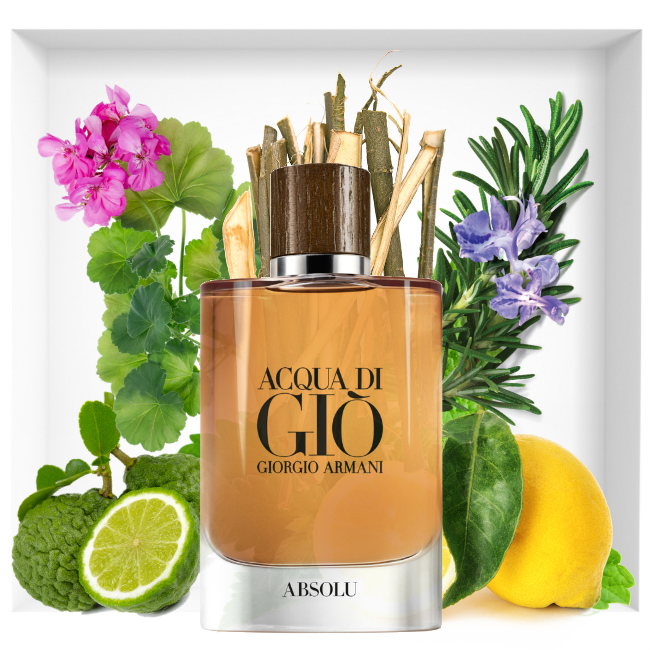 This aromatic and woody fragrance brings the maritime flavor into contact with more fruity notes and a deep, woody base. Moreover, the design of the bottle of Acqua Di Gio Absolute reveals this association perfectly. It's all the nature that suddenly seems to reappear from this case. Thanks to Giorgio Armani, the land and sea contrasts of the island of Pantelleria seem to have been bottled, revealing the best of this exceptional land.
A fresh signature fragrance for men has been created, using marine notes and patchouli. The patchouli provides the perfect balance between the aquatic fragrance and the woody aromas, creating true masculinity with a sensual twist that is at the heart of the fragrance. This unique alliance of wood and aquatic freshness makes patchouli nature's perfect ingredient.



Top notes: fruity notes, bergamot and sea notes.
Heart notes: geranium, lavender and rosemary.
Base notes: patchouli, woody notes, labdanum and tonka bean.
The advertisement for Acqua Di Gio Absolute begins with the vision of Jason Morgan evolving in the heart of the Mediterranean. The black and white image is particularly cinematographic, the solar reflections delicately piercing the transparency of the sea. Then, the camera gets closer and gives us a portrait of Jason Morgan coming out of the water. The athlete in question does not hesitate to climb a tree that stands unexpectedly in the heart of the sea. Leaving from the top of this giant of nature, Jason Morgan plunges into the middle of the water. It disappears and lets emerge an excessive bottle of perfume Acqua Di Gio Absolu. In parallel, this new advertising campaign was also photographed by Matthew Brookes, revealing this time Jason Morgan on a sandy beach.