Mademoiselle Rochas becomes a fresh and spring Eau de Toilette. Incarnated on the screen by the young actress Noémie Schmidt, previously discovered in the Versailles series, the perfume Mademoiselle Rochas never ceases to be talked about. Fresh and spontaneous, it is the perfect incarnation of a Parisian today. This fragrance bursting with surprises radiates and radiates the world of its solar scent. It is intended for all curious women, full of life and daring of our time. Today, he gives us a whole new face and adapts to the next summer season. Rochas chose to focus on freshness. Focus on Mademoiselle Rochas Eau de Toilette.

Mademoiselle Rochas Eau de Toilette, a floral and musky bouquet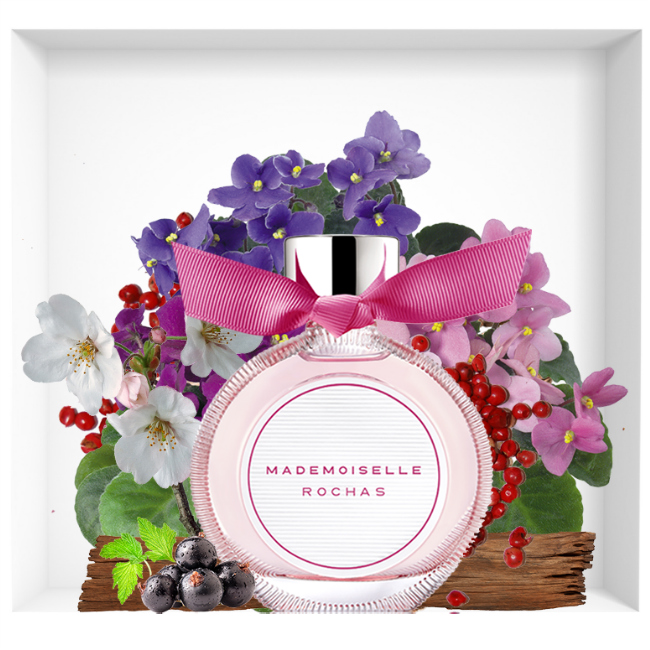 Mademoiselle Rochas Eau de Toilette is a new essence full of dynamism. Moreover, it is not his look "Fun in pink" that will prove the opposite! From the outset, this fragrance charms us with its floral and fruity accord. Its scent springs from an association of cassis and pink berries. Thus, Miss Rochas Eau de Toilette does not miss spice! The violet leaf gives it a more green and powdery breath. It opens the way to a huge floral bouquet. Mademoiselle Rochas's heart is particularly feminine. It contains one of the most popular flowers of women's perfume, jasmine, and accompanies it with a fresh and vegetal honeysuckle. Little by little, Miss Rochas Eau de Toilette nevertheless gains in depth. His most mysterious sensuality is based on a combination of cedar wood and benzoin. This balm gives it a breath more vanilla and sweet. Finally, Miss Rochas Eau de Toilette preserves its limpidity in an accord of white musk, for a more cottony and airy.



Rochas dress a bottle more girly
As if to echo her particularly feminine scent, Miss Rochas Eau de Toilette comes in a pink bottle. Moreover, Rochas has not done in the half-measure and its colorful shades give it here a particularly flashy and festive style. Immediately, the vision of Mademoiselle Rochas Eau de Toilette's bottle gives us a balm to the heart. It is a perfume bursting with good humor and it is noticed even on its design! All in curves, its formula echoes the generosity and feminine tenderness. An elegant ribbon of thick fabrics and fuchsia is tied at the level of his collar, itself overhung by a silver cap of the most contemporary. Finally, in a very couture spirit, Mademoiselle Rochas Eau de Toilette echoes several times the milleraies motif of the typically Rochas silk ribbon, a seal of connoisseurs sewn into the lining of each coat. You will understand, with Miss Rochas Eau de Toilette nothing is left to chance and every detail is thought with extreme meticulousness.