Chanel N ° 5 is a mythical perfume par excellence. More than just a fragrance, it is now considered to be a true work of art of perfumery. Moreover, it is the most sold perfume in the world.



N ° 5 … is the very original name of the perfume. Nevertheless, it has become an absolute reference point. When Gabrielle Chanel appealed to the perfumer Ernest Beaux, she said: "I want to give a woman artificial perfume, I say artificially as a dress, which is, say, produced, I'm a sewing craftsman. I do not want rose, lily of the valley, I want to compose perfumes. sets of samples numbered from one to five and from 20 to 24. Gabrielle Chanel chose the number 5. What's more, it was also her lucky number, she decided to name it this way. Gabrielle Chanel said about N ° 5 that it was "a unique fragrance , perfume like never before, feminine perfume, the scent of a woman. In other words, No. 5 is a huge bouquet of flowers. It offers women unmatched quality and combines jasmine Grasse with ylang-ylang Comoros, neroli, lily of the valley or Grasse rose. Aldehydes add freshness, and oak, vanilla and musk give off a particularly sensual trace. Chanel N ° 5 Perfume has been illuminating the world of perfumery for almost a century. Chanel No. 5 is today the best known and most used fragrance in the world. It is mythical and timeless, feminine and sensual, effective and luxurious. It's a bit retro but extremely elegant. What's more, according to Dianna Vreeland, a leading fashion journalist, is simply "the perfect fragrance for a woman".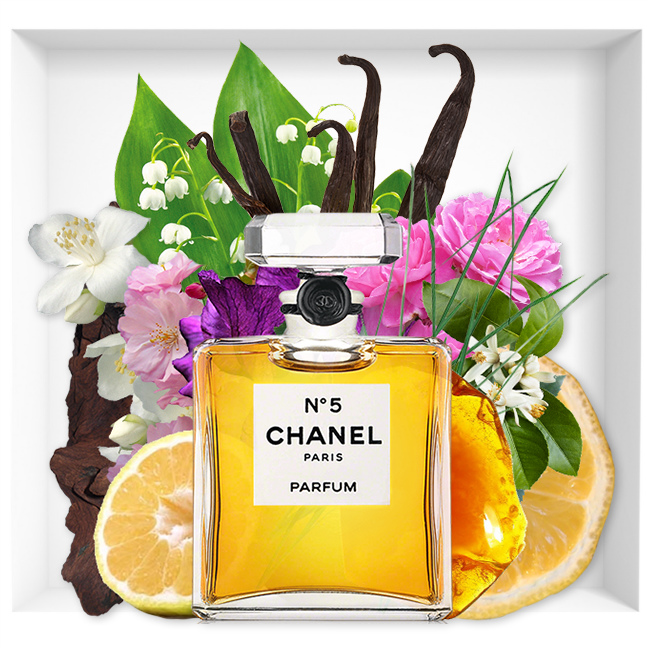 Chanel N ° 5 is simply the first fragrance of the Chanel brand. According to legend it is also Misia Sert who convinced the designer to create the first fragrance Chanel No 5. Misia Sert, called the queen of Paris, was a Polish artist, patron of Parisian life and art, and the closest friend of Coco Chanel. To achieve this milestone of its history, Coco Chanel engaged perfumer Ernest Beaux. For this anecdote, know that he was at that time a perfumer at the court of the Russian tsars. Indeed, while most species reproduced the scent of the flower at the time, No. 5 brought a completely artificial and complex aroma. This one was heavily inspired by perfumes created in 1913 by the same perfumer, entitled Bouquet of Catherine and dedicated to the empress of the same name. Ernest Beaux confessed that to develop Chanel No. 5, he was inspired by the scent he knew during the war with the Russian army not far from the White Sea. According to him, he "reconstructs" the unique sensation he felt outside the Arctic Circle, inhaling the smell of unusual freshness emanating from flowers and lakes under the night sun.
TOP NOTES : aldehydes, bergamot, lemon, neroli and ylang-ylang
HEART NOTES : jasmine, rose, lily of the valley and iris,
BASE NOTES : vetiver, sandalwood, vanilla, amber and patchouli.
If Chanel N ° 5 was surprising it was because its smell played on many facets. Some find it very powerful while others perceive it to be rather soft and tender. It must be said that it leaves a different wake on each woman. In other words, it is a perfume quite difficult to describe. It is full of jasmine, ylang-ylang, rose, neroli and lily of the valley. The background is enriched with sandalwood, vanilla, musk, vetiver and oak moss. According to Chanel's current nose, Jacques Polge, it is a fragrance that offers a perfect "balance between presence and mystery".