Dior releases the latest edition of the Poison Girl fragrance with a seductive and enigmatic interpretation. The all new Poison Girl Unexpected perfume opens with a unique fragrance that combines spicy and sweet notes. Conceived by the exclusive perfume creator Francois Demachy, the fragrance represents a striking contrast between sweet and spicy notes.



---
Quite Unexpected and Classy Combination
---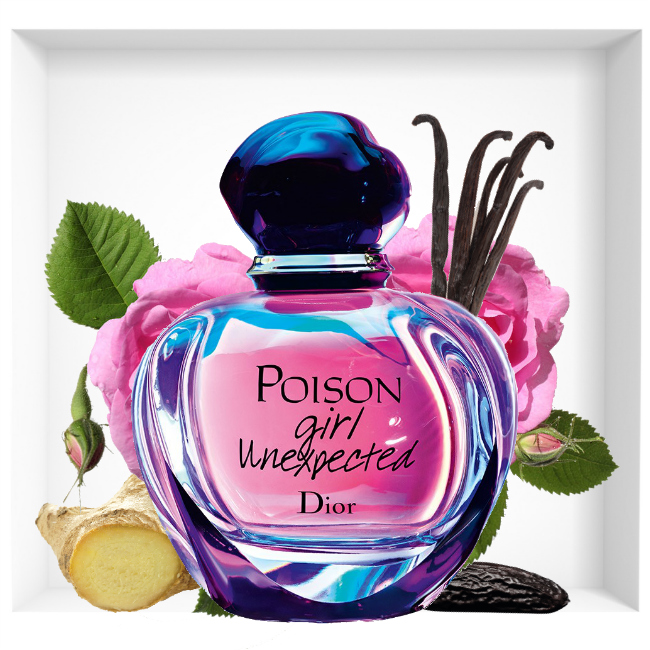 Poison Girl Unexpected is a perfect blend of fresh floral with a large dose of ginger. The Dior perfume creator drew inspiration from a childhood thrill to create this contrasting and unexpected fragrance. The striking perfume captures the senses with its spicy and fresh treats brought by ginger. The fragrance is quite unexpected with sassy ingredients that give a fresh and floral scent.
It has a spicy and explosive accord which is slightly lifted by bitter orange notes. This feminine scent unlocks with a burst of Tanzanian ginger in double dose. It is like a beautiful ginger tonic with subtle notes yet exploding with a seductive fragrance that lingers for long.
The signature part of the composition is Damask Rose at the heart with an enveloping fragrance of Venezuelan Tonka bean. The ever light note of soothing vanilla and musk lends a sweet and soft pleasure to the fragrance.
This exclusive Dior launch can be discovered in both Roller Pearl and classic bottle. The Roller Pearl is a small version of the perfume that has been designed for women on the move. It can be carried easily and used for touch-ups all through the day.
The all new Poison Girl Unexpected perfume is an embodiment of sweet treats and strong notes of Tanzanian ginger. The unexpected fragrance is designed exclusively for seductresses seeking freedom.


The most alluring and beautiful model and Dior muse, Camille Rowe lends her sensual and seductive image for this exceptional fragrance. Rowe plays seductively with her charms and a bottle of Poison Girl Unexpected, lending an elevated image to the all new brand of Christian Dior. Designed in two attractive formats, the spray and Roller Pearl, the perfume conceptualized by the exclusive perfume creator of Dior, can be applied like a caress anytime anywhere.
This unique fragrance embodies the feminine spirit that creates a fresh floral and striking aura. The scent shakes up classy codes with an unexpected twist of both sweet and spicy flavors.
The Poison Girl Unexpected is a flanker of the Poison Girl fragrance that debuted in 2016. This is the latest edition of Christian Dior perfumes that linger for years to come with its subtle yet strong and powerful notes. The fragrance has the power to light up your senses with its incredibly fresh, spicy and sexy notes. The ginger accords add that extra zing to the fragrance creating uniqueness with signature style.
It has a touch of effervescent Tonka bean with a heightened note of jasmine sambac and damask rose. It later envelops a note of vanilla and musk with a slight tinge of fruity accord.
Poison Girl Unexpected reveals a spicy and explosive fragrance with unanticipated twists in notes. The perfume has a fresh charm that explodes with its spicy accord yet softens to linger all day long.
The perfume is designed in two elegant bottles for perfect application. Poison Girl Unexpected tempts you to perfume without inhibitions anytime and anywhere. The Roller Pearl is a true representation of elegance, seduction and spontaneity. The bottle is designed with elegance so that it can be carried along to prolong the effect of the fragrance. Dior presents this fragrance in three different sizes that include 30, 50 and 100ml Eau De Parfum.


Follow my blog with Bloglovin