In a typical fun, lively and carefree style, the Escada fashion house offers completely new fragrance in the summer of 2017 – Celebrate N.O.W. With this scent Escada invites you to celebrate life, positive attitude and femininity.



Escada Celebrate N.O.W.
Celebrate N.O.W. It promises to be an energetic, optimistic and unique female fragrance that gives strength and confidence. The composition is supposedly a neat and harmonious blend of fresh and spicy best notes, rich floral heart and warm bases of cinnamon and tonic with "earthy" and "nostalgic" qualities. The main flower of the scent is magnolia, which symbolizes perseverance and generosity.
Top notes: ginger
Heart notes: magnolia
Base notes: vanilla, tonka, cinnamon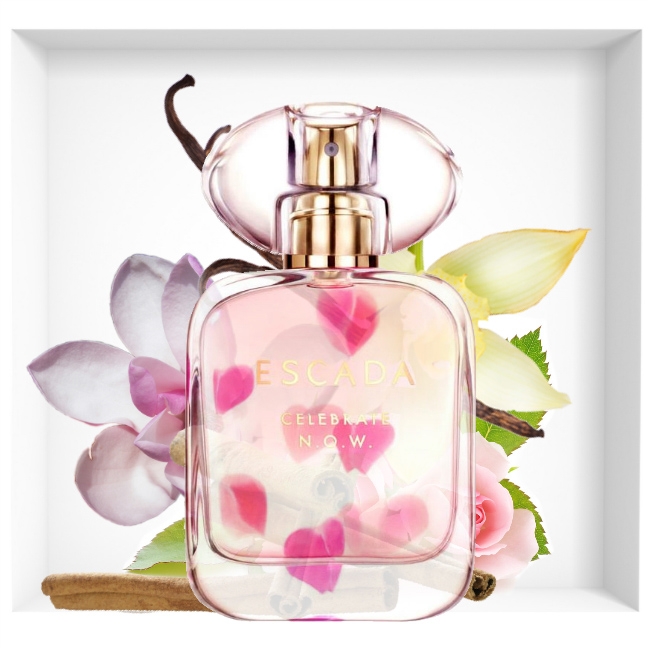 Celebrate Joy.
Accomplished, sophisticated, and perpetually curious, the Celebrate N.O.W woman understands that every day—every moment—is something to be embraced. And for Sofi Fahrman, the Swedish fashion reporter, novelist, social media sensation and the new face of Celebrate N.O.W, living in the moment is her mantra. Whether she's meeting-hopping, exploring a new exotic corner of the world, or simply spending quality time with her daughter, Sofi has an alluring presence, radiating light and positivity to everyone around her. She delights in seeking out and sharing joy and beauty with the world and her energy, joie de vivre, and, of course, that radiant smile, are infectious.
Celebrate Nature.
To smile at the world and see each day as a gift is the natural spirit of women and the inspiration behind Celebrate N.O.W. The fragrance, a dynamic fusion of natural accords, builds from a warm base of cinnamon and tonka bean with their lovingly nostalgic and grounding quality. At its heart is blooming magnolia, a time-honored symbol of generosity and perseverance that adds a strong, lavish touch. And its top note is a shot of spicy ginger, an instant stimulant for the senses and the soul. An entirely fresh perspective on fragrance, Celebrate N.O.W offers a singular lens on the world through the modern woman's eyes, the ultimate reflection of her positive perspective. Unexpected, upbeat, and uniquely feminine, it gives you the energy and the confidence to know you can conquer it all. And do it with grace and harmony.



Celebrate the Nature of Women.
The flacon mirrors a similar celebration of the nature of women. Talented Brazilian ceramic installation artist Valeria Nascimento took inspiration from her signature sculpted blossom shapes when dreaming up the delicately beautiful ceramic lanterns that adorn the bottle, itself an objet d'art worthy of display. Valeria's bespoke lanterns, both literally and symbolically uplifting, are an emblem of positivity and femininity. They make an appearance in the campaign as well, floating serenely against the horizon framing Sofi and her radiant smile. Each detail of Celebrate N.O.W, no matter how subtle, is distinct in its mission to lift up women, recognizing their strength, their creativity, and their positive outlook.