Nuit Pourpre – refined, sensual and captivating. Inspired by a flight at 11.50pm night, when the Night sets wings in the moonlight. Flight towards the purple night, bustling night life passions, the depths of the night, which dimmed by the moonlight. Nuit Pourpre is a refined, sensual and captivating scent. A dark night, favoring paradoxes, a prelude to intense, enigmatic perfume.L'Air du Temps is a mythical perfume dating back to 1948. It is a symbol of peace and embodies the image of absolute femininity for over 70 years now. This great classic of perfumery is a timeless that for a few years now offers a new youth. Thus, Nina Ricci enriches her Light Collection of L'Air du Temps.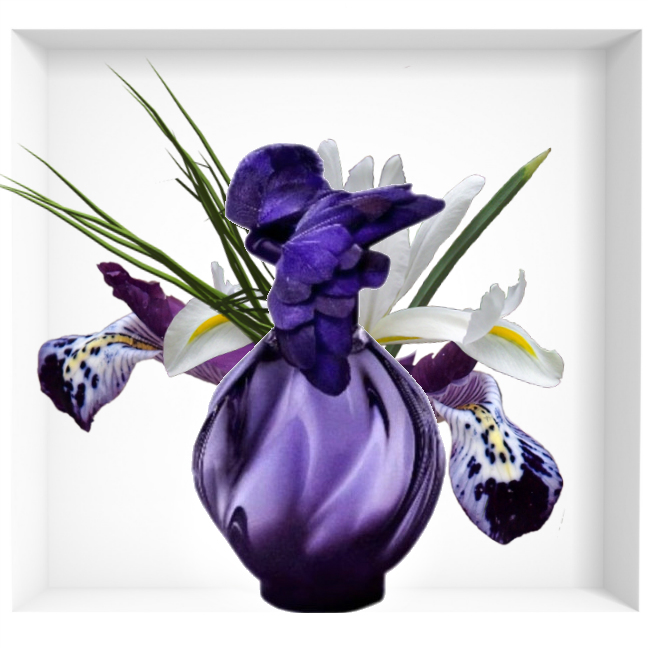 In 2016, L'Air du Temps was thus expressed in three different facets called Dawn, Zenith and Twilight. At the beginning of the year the perfume L'Aurore made its appearance. The Aube was an armful of flowers dominated by the rose and the carnation and delicately hemmed with irises. The Zenith was a more solar juice, based on jasmine, rose and sandalwood. Twilight, on the other hand, was more sombre and narcotic, while preserving the warmth of ylang-ylang and vanilla. Continuing along this path, Nina Ricci offers us this time a more nocturnal view of L'Air du Temps. Focus on its new version named Night Purple.
The story of a cult perfume by Nina Ricci



L'Air du Temps is a perfume made after the Second World War. It is considered by many to be the very essence of love. Moreover, its fresh and clear breath still moves millions of women today. Through this juice, Robert Ricci simply wanted to capture the spirit of his time and the joy of a regained freedom. As a symbol of peace, he had placed two doves on top of his bottle. L'Air du Temps is the perfume of a Paris in full mutation. It opens the door to the dream and has been able to forge a faithful relationship with women.
The new floral sensuality of L'Air du Temps Nuit Purple. This time, L'Air du Temps plunges us into the heart of the night and addresses a new generation of women. Indeed, Nina Ricci's current clients are now free of any constraint and dare to let their feminine sensuality fully speak. It is this new exuberance always charged with elegance that is found in the perfume L'Air du Temps Nuit Pourpre.
Designed by perfumer Calice Becker, it combines spicy, deep, floral and animal notes. It begins first with an opulent combination and powdered with jasmine and violet. The pink pepper, for its part, immediately tickles the start of this perfume.
Then, The Air of Time Purple Night gains in refinement. The iris, one of the noblest flowers in perfumery, occupies the central place of this juice. It is associated with particularly sensual leather notes. This effect darkens in its wake. Finally, L'Air du Temps Nuit Pourpre ends with a trio of patchouli, cedar and styrax.
Top notes: pink pepper, jasmine, violet
Heart: iris, leather
Base: styrax, patchouli, cedar wood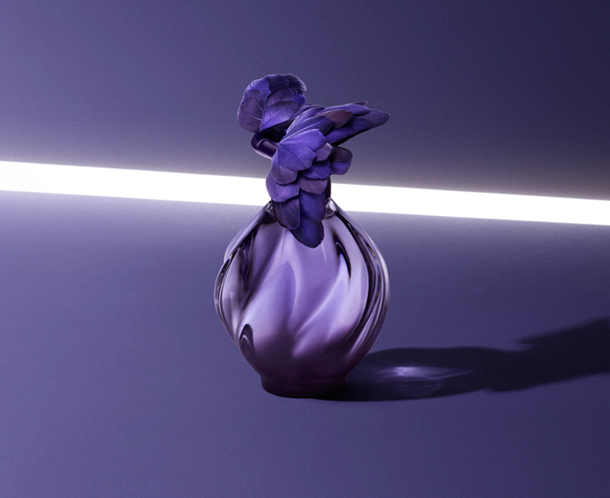 To evoke this mysterious sensuality, the bottle of L'Air du Temps Nuit Pourpre has retained the silhouette of its predecessors while dressing this time of a darker and bewitching color. Its glass is now tinged with purple purple very elegant. The doves of former times gave way to a bird with plumage matching the rest of this bottle. This bottle plays on the contrast of chiaroscuro and evokes with brilliance the mysterious beauty of a queen of the night.