Viktor & Rolf's famous Flowerbomb returns as an Intense Fragrance Nectar. Viktor & Rolf is a brand renowned for its subtle extravagance combined with a touch of refinement. In this context, the brand created, in 2005, a very first fragrance named Flowerbomb. This amazing perfume, thought of as a "flower bomb", is now considered one of the most beautiful creations of Viktor & Rolf. As such, it is now reinterpreted in a more sensual and seductive form. Focus on Flowerbomb Nectar de Parfum Intense, a new evening perfume designed to thrill with pleasure.



---
Flowerbomb Nectar de Parfum, a couture-inspired fragrance
---
Flowerbomb was created in 2005, exactly ten years after the launch of the Viktor & Rolf brand. The idea was, through him, to surprise women, and stick as close to the image of the couture creations of the brand. Thus, Flowerbomb is inspired more precisely from the "Atomic Bomb" collection of the autumn winter 1998/1999 but also from the "Flower" collection of summer 2003 during which Viktor & Rolf had offered a mysterious bottle containing a rose extract, a kind of antidote to face the morose reality. Soon, Flowerbomb has become an icon of the perfume for women. Viktor & Rolf imagined it as "an ideal for measuring the heart. A fragrance that would flow into a bouquet to defy the dangers of time. A bomb of flowers that would turn the negative into positive. A geyser of sensations, fresh waves, faceted with light, to celebrate life as utopia."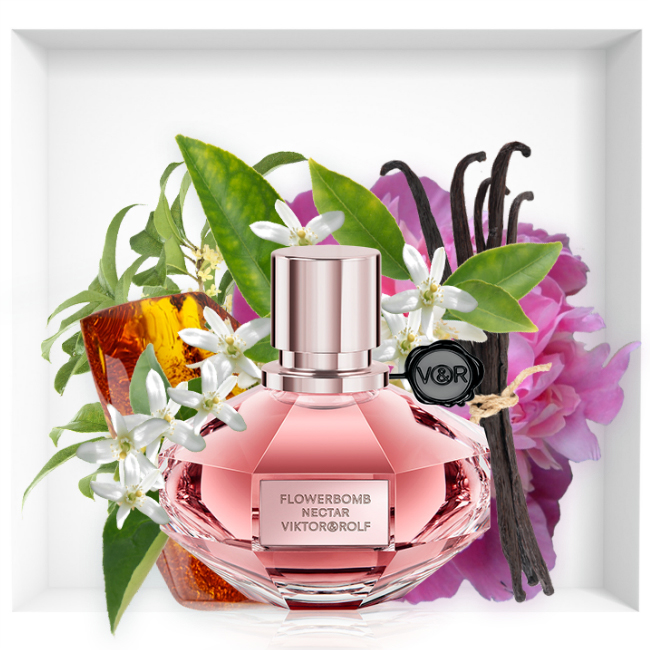 ---
Viktor & Rolf's Flowerbomb, an incandescent and captivating fragrance
---
Flowerbomb Nectar de Parfum Intense retains the same spirit as its predecessor. As such, it is a particularly floral essence. Its start is fusant and metallic. It is based on an olfactory discovery: a gunpowder accord. Then, this intensity softens in contact with osmanthus and jasmine. The orange blossom illuminates everything with its Mediterranean aura. Finally, Flowerbomb Intense Fragrance Nectar comes to an end with a more enveloping and comforting base of vanilla, benzoin and tonka bean.


---
Flowerbomb Nectar de Parfum offers a bottle synonymous with generosity
---
On the aesthetic side, again, Flowerbomb Nectar de Parfum Intense is very close to its elder. Like him, it is a kind of refined pomegranate, on the border of perfumery and jewelery. The Flowerbomb Nectar Intense Perfume bottle is carved like a diamond and has multiple facets of glass returning the light into a shimmering pink juice. A tassel decorated with the initials of Viktor & Rolf is fixed at the level of his collar. A silver plate comes to reveal its name on its front face, harmonizing perfectly with the beautiful chrome color of its cabochon. The only difference is that Flowerbomb Nectar de Parfum Intense has a more rounded silhouette than before, giving it a more generous side.