Amor Amor was born in 2003. It's been 15 years since he flooded the world with his timeless youth, his freshness and his passionate breath. A true icon of perfumery for women, it embodies love as the first freedom and the most beautiful addictions. What's more, every summer, it transforms into a new limited edition. The year 2018 is not left out and Cacharel already presents us what will be his next perfume. This one is called Agua De Amor Amor. He takes us to Cuba to live a crazy love story to the sound of salsa!



---
The new Fiesta Cubana collection from Cacharel
---
In this year 2018, Cacharel has decided to reinterpret two of its most famous perfumes: Amor Amor and Noa. The sign has chosen to make them more festive than before and to charge them with an exotic and tropical emotion. It's time for a party and Cacharel is taking us to a salsa party in Cuba. The name of this limited edition collection is none other than Fiesta Cubana. That says a lot about the bewitching power of this new juice! Agua De Amor Amor already promises to make you want to wiggle and takes you in the footsteps of two lovers and their caliente dance!
---
Agua De Amor Amor, the story of a holiday love
---
Of course, romantic feelings are always there. After all, this is the original essence of this fragrance. Agua De Amor Amor gives us the story of two lovers. This time, the darling couple of Cacharel seems to have just flown to Cuba to enjoy an exotic holiday under the sign of the sun. Between desires, emotions and tropical cocktails, time is more than ever at the party!



---
The fruity and floral breath of Agua De Amor Amor perfume
---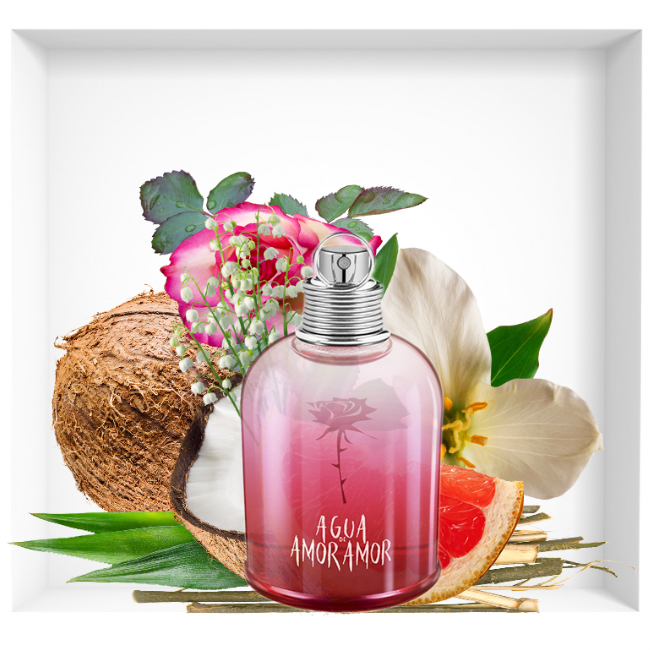 On the olfactory plane, it is characterized by a fruity and floral scent, concentrated of freshness, joy of life and festive spirit. Light and lively, Agua De Amor Amor blends perfectly with the summer season. It flies first on a blend of citrus and cassis. It overflows with energy and lets then show all its femininity in an enormous bouquet of white flowers. Jasmine and lily of the valley get drunk with fresh and exotic coconut water. Finally, as if to make us turn our heads, rum absolute has also been added to this composition.
---
The new Cacharel packaging
---
The silhouette of the bottle of Agua De Amor Amor has remained faithful to that of its predecessors. All round, he is wearing a spiral silver metal. Its red color of the past however disappeared in favor of a very feminine pink gradient. Finally, a rose now decorates his glass. Feminine, romantic and sharp, it alone materializes all the complexity of femininity. The whole is integrated into a cardboard packaging at once urban, festive and particularly colorful. Unquestionably, Agua De Amor Amor is a perfume of ardor and cheerfulness!