Givenchy has announced the launch of Live Irrésistible Blossom Crush fragrance and has appointed actress Lou de Laâge as the face of the fragrance.


Live Irresistible Blossom Crush gives us the portrait of a woman who lives at full speed and enjoys every moment. Like his predecessors, he is the incarnation of a sparkling femininity, who enjoys everything and does not worry about anything. Once again, Live Irresistible Blossom Crush seems to have made everyday life their playground. His puzzling personality is no less chic and refined. This is precisely what we find in her playful fragrance. Like her unpredictable heroine, Live Irresistible Blossom Crush is a floral and amazing juice. It reveals its splendor in an abundance of rose petals and fresh peonies. Thus, he is bursting with romance and delicacy. However, an unexpected touch of cocoa beans comes into its recipe. This surprising ingredient envelops the scent with a sweet bitterness. With so much audacity, Live Irresistible Blossom Crush could make you thrill with pleasure.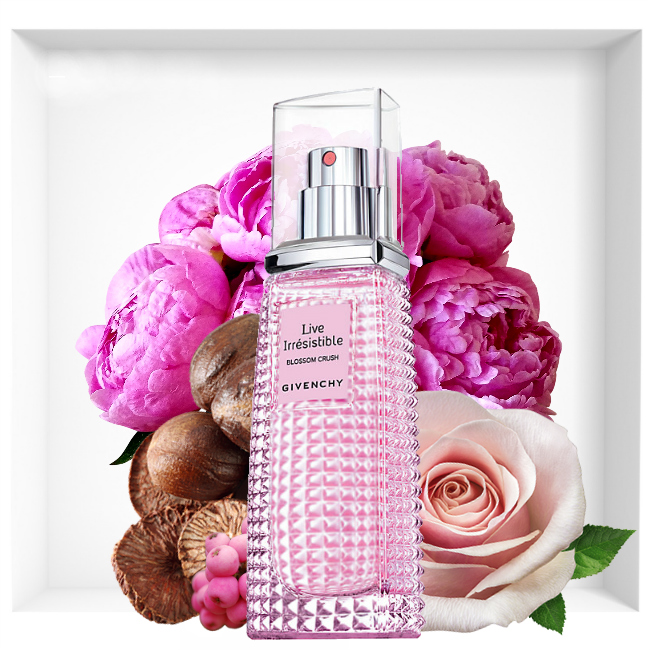 Blossom Crush is a sparkling and irresistibly charming Eau de Toilette that advocates spontaneity as an asset and freedom as power. Just like its unpredictable heroine, Live Irrésistible Blossom Crush is an astonishing floral bouquet. It reveals an abundance of fresh, delicate petals of roses and peony with a twist of cocoa bean, the unexpected ingredient which tinges the fragrance with a bittersweet note for an immediate crush.