Some perfumes play the trend chart to make talk about them: they are considered as blockbusters of perfumery that nobody can ignore.


Others, on the other hand, are aimed at more initiated consumers. They give us more abstract stories and we content their metamorphosis. L'Eau d'Issey was conceived in 1992, without worrying about the modes of its time. A true odyssey highlighting the water, it is an air and singing perfume that continues to metamorphose with the seasons. This time, L'Eau d'Issey takes the form of a more sweet and honeyed juice. Let's focus on the new Eau d'Issey Pure Nectar de Parfum.Eau d'Issey is a fragrance that tells the story of water. His name is a play on words all by himself. L'Eau d'Issey is an odyssey that takes us on thrilling adventures. Water takes many aspects, sometimes crazy, sometimes wise, sometimes intrepid or more serene. Through this fragrant collection, Issey Miyake pays homage to our source of life. Water takes us to its depths and mysteries. It is a juice full of poetry that began by giving us its floral and aquatic face. Since 2000, L'Eau d'Issey has also taken on a new summer look every summer. Multiple versions of L'Eau d'Issey followed one another, giving birth to the editions Une Goutte on a Petal, Reflections of a Drop, a Drop on a Cloud, Fleur de Bois, Absolute Black, Absolute Gold, Lotus or City Blossom. This time, it looks like the water is like a real nectar …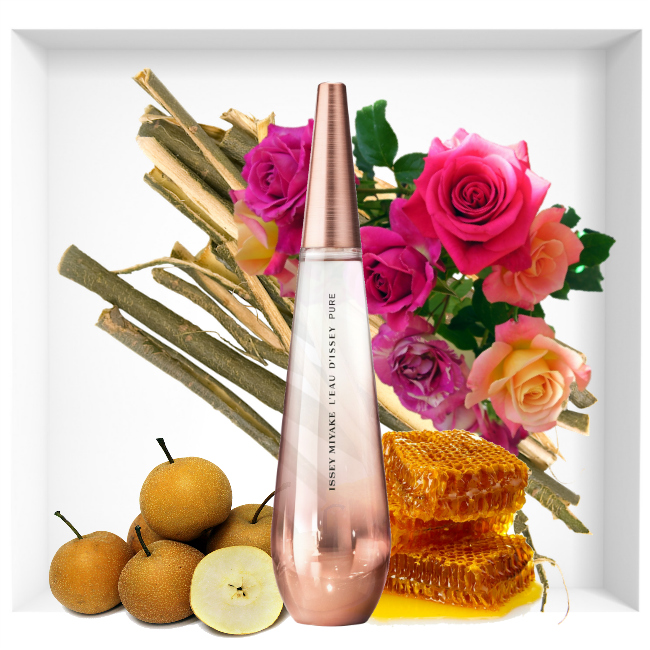 From now on, Issey Miyake has chosen to present us with water as a real sweet nectar. The fragrance of L'Eau d'Issey Pure Nectar de Parfum opens with a fruity scent of pear. Then, its aquatic aspect resurfaced in his heart. However, it warms up in contact with a honey. The femininity of Eau d'Issey Pure Nectar de Parfum is reflected in a poetic breath of rose. Finally, L'Eau D'Issey Pure Nectar de Parfum is wrapped in a more woody background of sandalwood, amber and cashmeran. Eau d'Issey Pure Nectar Perfume gains depth and becomes as tender as a caress. This composition is the work of two perfumers – Dominique Ropion and Fanny Bal.



Issey Miyake has chosen to modernize somewhat its original bottle. It is again a glass tower that rises to the sky. Its crystal ball of former, present on its summit, has disappeared today. It is the entirety of this bottle which forms from now on a kind of drop. Its base unfolds a peach color of the most carnal. Eau d'Issey Pure Nectar de Parfum is surmounted by an elegant pyramidal cabochon with the most elegant copper color.