Le Parfum In White, the new eau de parfum by Elie Saab. A new chic and modern fragrance that plays on an addictive symphony of vibrant whites, by Francis Kurkdjian and Jerome Di Marino. Elie Saab Le Parfum in White is a floral-fruity fragrance with a chypre character.


The Elie Saab Perfume was created in 2011 and is one of the most elegant fragrances in the feminine fragrances. It is in perfect agreement with the couture collections of the brand, and materialize perfectly the extraordinary know-how of this creator from the East. Today, this iconic juice returns, and offers us a new breath brighter, modern and radiant than ever. Get ready to welcome Elie Saab's Le Parfum in White, and a perfect union between the brightness of the flowers and the voluptuousness of the white musks. Today, with Le Parfum in White, Elie Saab chose to focus on the color white. Why this choice ? First, because it is a hue with a very powerful meaning. From a purely chromatic point of view, white is the synthesis of all other colors. In this sense, it is a hue often associated with unity and perfect balance. For a long time now, it has also been a color related to marriage and purity. White is a divine symbol. It blends perfectly with all other colors, and immediately brings a certain innocence and unstoppable luminosity. What's more, Elie Saab has always loved this color, and it is indeed he who was in charge of developing one of the most beautiful collections of wedding dresses for the brand Pronovias.

Elie Saab's Le Parfum in White is a chic and modern juice with a floral, fruity and chypre character. It is thought of as a "bright union of notes of orange blossom and white musk. He goes first on a solar association of this Mediterranean plant with more acidulous red fruits. Then, jasmine brings a more radiant femininity to his heart. The whole is full of patchouli and amber binds to white musk for a particularly cottony. Le Parfum in White by Elie Saab is presented in the usual bottle of the creator. A true architectural feat, it plays on brilliance and transparency. Thus, it is in perfect agreement with the essence it contains.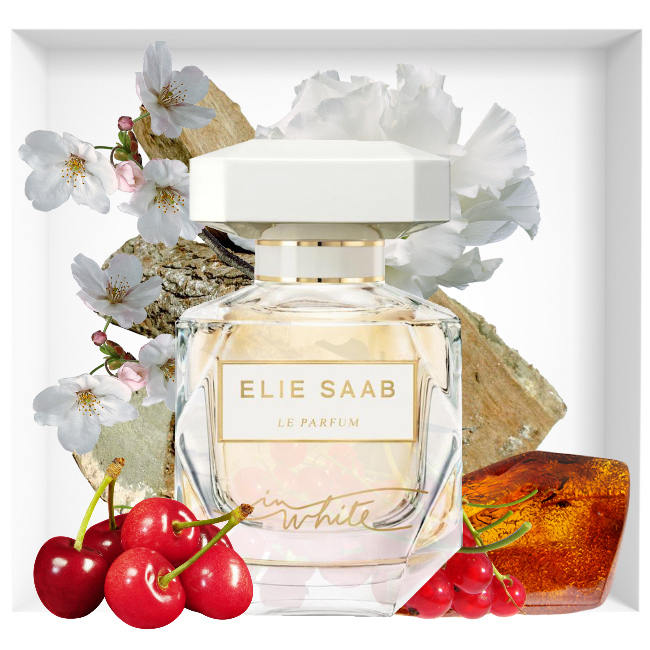 Top notes: Red fruits, Orange Blossom
Heart notes: Sun-dried Jasmine
Base notes: Patchouli, White Musk, White Amber