Jean-Paul Gaultier is a character who likes to draw his sources of inspiration in his deepest memories. He often remembers learning how to sew at his grandmother's. One day, at home, he found a corset in the back of a forgotten trunk. It was a revelation for him. From this childhood discovery, he made one of the most famous fragrances in the history of feminine perfume: the Classique perfume of Gaultier, born in 1993. Since 1996, Jean-Paul Gaultier has become accustomed to declining his fragrance in the form of fresh and summer fragrances. These limited editions often appear in the spring and this is how Jean-Paul Gaultier present us his latest novelty: the André Edition Classique.
---
The new urban bottle Andre Classique Edition
---
As usual, the Classic André Edition is packaged in the famous tin can of the creator. Its metallic color is this time surrounded by a broad red band labeled #ILoveGaultier. At the center of it is the character Madame A graffiti Andre, at once simplistic but very expressive. Moreover, this female figure and a childish strand is also invited on the glass bust bottle of Jean-Paul Gaultier. The creator's corset is this time decorated with innumerable pink stripes, dark at the base of the bottle and lighter at the top. The whole takes a format of 100 ml.
---
A collaboration between Jean-Paul Gaultier and the graffiti artist André
---
This unique design is the work of André, André Saraiva of his real name. Born in Sweden, of Portuguese origin and living in France, he is primarily considered one of the most influential graffiti artists at the moment. This king of the Parisian night exhibits in all the greatest museums of contemporary art in the world, like that of Tokyo, Los Angeles, Paris or Venice. Renowned for his work as an artist, although denigrated by some as "vandal", he does not hesitate to proclaim "that to write [his] name on the walls is [his] neurosis". He gives us here one of his most famous works: a portrait of Madame A for the unique Jean-Paul Gaultier.
---
The unchanged fragrance of the Eau Fraiche Classique
---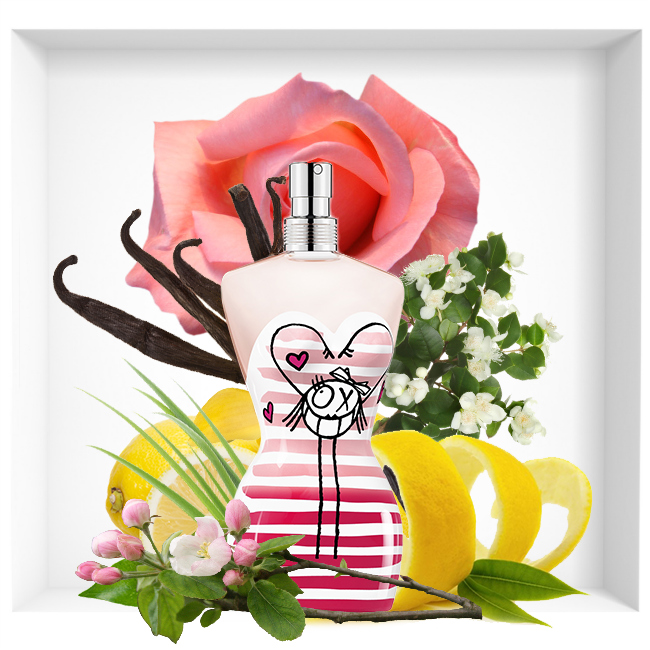 Jean-Paul Gaultier decided to keep the fragrant breath of the previous Classic Betty Boop and Wonder Woman, the respective Fresh Waters of 2016 and 2017. This olfactory composition is the work of Daphne Bugey. Jean-Paul Gaultier's Classique André Edition takes off on a fresh, peppery combination of lemon sorbet and ginger. Sugar cane softens this explosive duo. Then, a floral and very sunny heart takes over. It combines orange blossom, jasmine and tiare flower. Gradually, the André Edition Classique becomes more sweet and warm. It ends with the presence of vanilla, musk and rockrose.
Top notes: lemon sorbet, ginger, sugar cane juice.
Heart notes: Tiare flower, jasmine, orange blossom.
Base notes: vanilla, musk, net-labdanum.