The iconic Panthère de Cartier now takes the form of Eau de Toilette. The Panther has always been a very strong symbol for the Cartier House. Thus, in 2014, the brand decided to decline this iconic beast into a perfume. The emblem of the jeweler has for several years already a particularly feminine scent, which continues to metamorphose into multiple versions. As if to succeed La Panthère Extract of 2014, La Panthère Eau Légère 2015, or La Panthère Edition Soir and La Panthère Absolu 2016, Cartier chose this time to focus on freshness. Perfectly adapted to the spring season, La Panthère becomes a Eau de Toilette.

La Panthère has always been a symbol of the Cartier House. Indeed, the sign sees in this animal an icon of femininity. The panther became the emblem of the jeweler in the middle of the Roaring Twenties. Since that time, Cartier is literally conquered by its feline character, rebellious and powerful. The Panther de Cartier is the epitome of freedom and passion. Its fragrance is for all women who feel free to love and fulfill themselves as they see fit. No matter what others think about it, they only let themselves be guided by their instincts and do not care about the dictates of our society. Like the feline carpet of charm, the Panther Eau de Toilette de Cartier possesses in her a sensual highness and a solar wake. Suddenly, this wild animal becomes one of the most seductive of all the animal kingdom!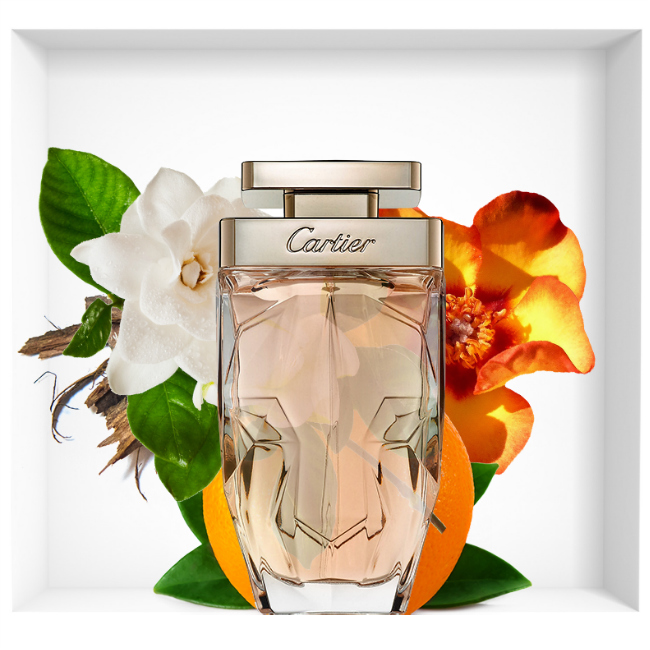 Cartier opts for a more transparent bottle for toilet water. As if to convey to us his fascination with this animal, Cartier has chosen to deliver it to us in an exceptional bottle. The bottle of La Panther Eau de Toilette is the work of a unique know-how. Carved like a precious stone, its bottle lets us guess the geometric silhouette of a panther in his heart. It is more exactly the head of the animal, possessing for the occasion a square jaw particularly angular. Cartier's container seems to carry all the dignity of a precious nectar. The old-fashioned orange hue of La Panthere has disappeared, however, in favor of a more crystalline color that speaks volumes about its freshness and transparency.
From then on, it seems almost impossible to resist the desire to discover the flavor of this new perfume. The Panther Eau de Toilette has retained the wild look of its elders while offering more airy and lighter shades. It's a bit like Cartier had gradually tamed his animal and wild side. The Panther Eau de Toilette lets us first glimpse its feline veil before giving us its delicate juice and skin flower in a fresh and floral bouquet. The gardenia is the star of this composition. Its radiant softness is enriched with musk and sandalwood. The result is a balanced fragrance, both feminine and bold but transparent and light.