Many creative brands are inspired by fairy tales to make perfumes. After all, what better way to arouse emotion than by immersing ourselves in our childhood memories? What little girl has ever dreamed of one day embodying the image of a princess? This is exactly how the Modern Princess perfume was made. Today, this perfume reveals a brand new face and becomes Modern Princess Eau Sensuelle. The former heroine seems to have grown well. She now fully assumes her seductive side …


Modern Princess is not a princess as is traditionally imagined in the books of little girls. She is actually exploring a very current vision of women. This modern-day heroine lives in a mysterious way and fully assumes her hidden face. Do not be fooled by her angelic appearance, Lanvin's Modern Princess is a rebellious adventurer, enamored with freedom. However, she is none the less glamorous and romantic. Her insubordinate personality only makes her more seductive. With her, freedom is precious and daring is part of her character.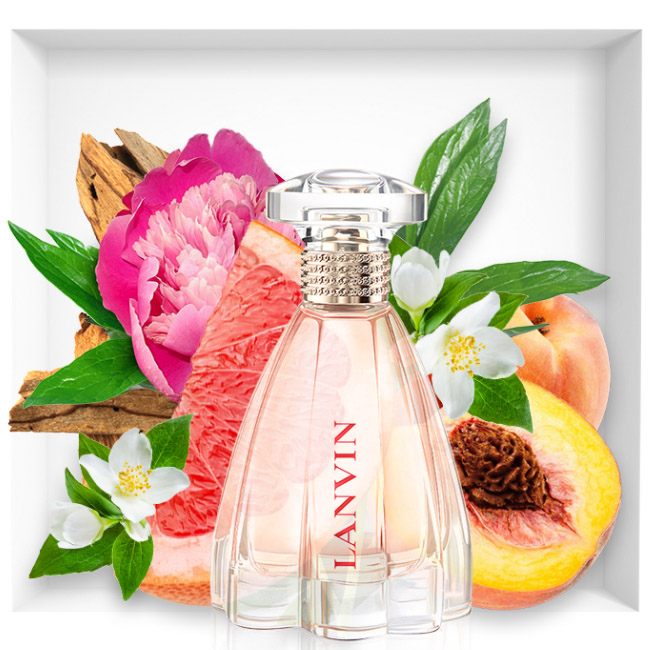 Modern Princess Eau Sensuelle is a floral, fruity and gourmand fragrance. Like its predecessor, it is gentle and wrapped around a velvety peach.
Nevertheless, its strong character and vivacity are materialized by the bitter presence of pink grapefruit. Modern Princess Eau Sensuelle appears as an elegant blend of freshness and tenderness.
Top notes: pink grapefruit, vine peach
Heart notes: peony, jasmine
Base notes: sandalwood, musk
He delivers himself in a bottle similar to the image of a modern woman, dressed in a vaporous dress. Everything at Modern Princess Eau Sensuelle is evocative of unbridled femininity, whether it be its seductive curves or its name written in passion red on its wall. Finally, a metal chain, emblem of the brand, encircles the top of its bottle nicely.




Modern Princess Eau Sensuelle will be again embodied by Steffy Argelich. Indeed, this pretty model was already the face of the previous part of this fragrance. Besides, she does not sulk her pleasure to collaborate with Lanvin. "I've always loved Lanvin's intriguing world," she says. "Her Parisian aesthetic is perfect and I'm honored and proud to be an ambassador for the brand's new fragrance." What's more, she says she adores above all perfumes that provide a sense of freedom. Steffy Argelich says of Modern Princess Eau Sensuelle that he is the perfume of a "strong woman." A woman who does not just stay in the shadows of men. A woman who feels free to do what she wants for those she loves and for herself. "